EXCLUSIVE
KING OF POP MICHAEL JACKSON GETS ROYAL SEND OFF
Los Angeles, July 8 (DPA) From the fleet of Bentley limousines that transported his family, to the endlessly fawning comments of television anchors throughout the blanket coverage, Michael Jackson, the late King of Pop, got a send-off Tuesday that was fit for royalty.
As the 30-vehicle convoy left the Forest Lawns Memorial Park in the Hollywood Hills, it drove past dozens of broadcast trucks, with several news helicopters buzzing overhead. Police closed the 101 Freeway to allow the procession easy passage to the public memorial in downtown Los Angeles. Traffic in the opposite direction also slowed to a virtual standstill as commuters halted their journey to catch a glimpse of the hearse.
As the procession drew up to the Staples Centre a high-flying plane drew a huge heart in the blue Los Angeles sky, while fans screamed, "We love Michael!" TV crews were set up on dozens of large podiums close to the entrance, as the country's most distinguished news anchors, from Katie Couric to Brian Williams, led the coverage.
"We made so many sacrifices to see him one last time. We sold everything we had in our house," said one fan, who journeyed for three days on buses from South Carolina to southern California to attend the memorial, even though she had no ticket.
Inside the arena, a large royal blue stage was erected at a basketball court that usually plays host to the Los Angeles Lakers. The backdrop featured a photo of a smiling Jackson looking up towards the sky and the words: "In loving memory of Michael Jackson King of Pop. 1958-2009."
A lavish gold-coloured programme featured pictures of Jackson with presidents, political leaders and showbiz stars, and tributes from his family and friends.
The elaborate service began with Smokey Robinson reading tribute letters from the likes of Diana Ross and Nelson Mandela. The backdrop then changed to an image of stained glass windows as Jackson's casket, laden high with flowers, was wheeled in. His pallbearers were each wearing a single, sequined glove in a tribute to one of Jackson's signature styles, as a gospel choir sang.
The elite of pop music performed tributes for Jackson, from Mariah Carey and Stevie Wonder to John Mayer and Usher.
"The title King of Pop is not big enough for him," said Berry Gordy, the founder of Motown who discovered Jackson and guided his early career. "I think he is simply the greatest entertainer that ever lived."
But for some in the entertainment world, the endless fawning and hagiography was a little much. Media columnist Brian Lowry could barely wait for the event to end as he blogged it live for entertainment trade paper Variety. He juxtaposed the reverential tones with the bizarre behaviour that Jackson often displayed and which "makes the worshipful tone characterizing much of this coverage even more questionable."
African American activist Al Sharpton, in his eulogy for Jackson, tried to explain the pop star's mass appeal. "You would have to understand the journey of Michael to understand what he means to us," said Sharpton.
"When Michael started it was a different world but because he kept going, because he refused to let other people decide his boundaries, he opened up the whole world. It was Michael Jackson who brought blacks and whites and Asians and Latinos together. It was MJ who made us say 'We Are The World' and 'Feed the Hungry'."
Only one reader of Variety, commonly regarded as the Bible of the US entertainment industry, bothered to post a comment - and he obviously did not agree with Sharpton. "A grotesque and vulgar display," noted reader Jack Henry of the ceremony. "The US is not only financially bankrupt, but morally and culturally bankrupt as well. God help us."
06 Jul 2009 07:04:45 PM

LONDON: Michael Jackson's fans created a frenzy after possibly sighting the ghost of the pop legend at his Neverland ranch recently.
An eerie shadow resembling Jackson's figure appeared on a wall in the singer's former home during a live television programme last week, reports thesun.co.uk. If reports are to be believed, the shadow walked across the corridor and even moved quickly from left to right before disappearing.
The sighting reportedly took place during CNN's special show "Inside Neverland", where Larry King was in conversation with Jackson's brother Jermaine.
While shooting, the crew of the show takes viewers on a
tour
of the ranch and when the camera enters a long hallway, the shadowy figure appears at its far end.
Neither the presenter nor the cameraman noticed the shadow, but after it was posted on video sharing website YouTube, fans started pinpointing the shadow.
Jackson passed away June 25 after suffering a cardiac arrest at his Los Angeles home.
MICHAEL JACKSON FUNERAL SET FOR JULY 7 AT STAPLES CENTER
Los Angeles, July 3 (DPA) Organisers Friday released the first details of Michael Jackson's public memorial service, confirming that it will take place at the Staples Centre in downtown Los Angeles Tuesday.
A total of 17,500 tickets will be available via lottery for fans who register online at Staplescenter.com. But police will not allow any mass gathering around the venue for fans without tickets, and announced plans to close off a wide area of downtown Los Angeles on the day of the event.
The event is expected to be one of the most viewed in history, and organisers are making available free live video feeds to broadcasters and websites around the world.
Jackson family spokesman Ken Sunshine said there would be no memorial procession and that no details of the memorial service itself would be released prior to the event.
The Michael Jackson funeral is scheduled for 10 a.m. on Tuesday, July 7, at Los Angeles' Staples Center. Sources tell. AEG Live, which owns Staples and next-door neighbor Nokia Theatre, will use both facilities and the surrounding plaza. There's no official confirmation yet, but I'm told all systems are to go.
Insiders also say that AEG will put gigantic screens outside the facilities for the thousands who will not get inside. No word yet on how ticketing will be handled.
In order to do this, the Ringling Bros. and Barnum & Bailey Circus, scheduled to begin its run at Staples on July 8, had to be persuaded to postpone moving into Staples by several hours.
Somehow it seems appropriate. It will be a day for the Greatest Show on Earth to follow The Biggest Funeral in History. Jackson would love this, that's for sure.
Earlier speculation had the funeral being held everywhere from Neverland to Los Angeles Memorial Coliseum.
Michael Jacksons Body To Return To Neverland
jun 30, 2009Author: admin | Filed under:
Media
We've just learned Michael Jackson's body is set to be driven to Neverland Ranch (that was bought by Michael) on Thursday morning.
Law enforcement sources tell TMZ upwards of a 30 car motorcade — including Jackson's body — will be traveling from Los Angeles to Neverland at 10 AM on Thursday. We're told law enforcement is currently meeting to discuss security and traffic control. Our sources say plans are in the works for a public viewing to take place on either Friday or Saturday.
Jackson passed away Thursday afternoon. He was 50
What the world may have missed is evident in the last photos ofMichael Jacksononstage.
Images of Michael rehearsing in front of a giant red "This Is It" sign on stage in Los Angeles June 23 are circling the 'net.
In the photos he appears energetic, if a little thin for a six foot man. He weighed 112 at hisautopsy.
The footage of Michael rehearsing at the Staples Centre in Los Angeles two days before he died may be released on DVD, but who owns the rights?
Jackson was to begin performing the first of his 50 dates at the O2 Arena in London in two weeks.
He had said one of the reasons he embarked on this physical endeavor was his children. He wanted to show Prince Michael, 12; Paris Michael Katherine Jackson, 11; and Prince Michael II, 7, what their father did for a living.Their fate has yet to be decided by the Los Angeles courts.
Although Michael allegedly died in debt, estimates for his music sales, and possibly those from a DVD of his last onstage moves, show that his estate could make more money in the next year than it did in the last decade.
E PHOTO
ET has the exclusive last photo of Michael Jackson before his death.

DISTURBING REPORT

Michael Jackson begged for drugs hours before dying

According to an AP story that's been picked up by the Huffington Post,Michael Jackson was "so distraught over persistent insomnia" in the weeks preceeding his death that the King of Pop virtually begged for drugs to treat his condition says Cherilyn Lee, a registered nurse who treated Jackson in preparation for his forthcoming tour. Lee reports taking a "frantic" phone call from Jackson only four days before his death that left an unsettling feeling with her about his worsening condition. Lee claims to have rejected Jackson's pleas for the drug, Diprivan, which is administered intravenously. On June 21, Lee was contacted by one of Jackson's assistants. "He called and was very frantic and said, `Michael needs to see you right away.' I said, 'What's wrong?' And I could hear Michael in the background ..., 'One side of my body is hot, it's hot, and one side of my body is cold. It's very cold,'" Lee said.

"I said, `Tell him he needs to go the hospital. I don't know what's going on, but he needs to go to the hospital ... right away."

"At that point, I knew that somebody had given him something that hit the central nervous system," she said, adding, "He was in trouble Sunday and he was crying out." can say is he was adamant about this drug," Lee said.

Michael Jackson - Shocking autopsy results – Very disturbing -his body was in horrifying shape. The following is a list of results from the Michael Jackson autopsy according to the Sun New in the UK. Some results are disturbing. Although there has been "no foul play" according to examiners, the Jackson family is conducting their own investigation as they are not pleased with the first autopsy's results. news. yahoo.com/s/ap/20090627/ap_on_en_mu/us_michael_jackson

It is reported that the King of Pop was basically starving himself, eating barely one meal a day and working a grueling rehearsal schedule for his upcoming come-back tour, starting with fifty sold-out shows in London. Michael was emaciated.

There was no food found in his stomach only pain medication remnants and there were four injection sites where his doctor, cardiologist, Dr. Murry, is believed to have given him the final dose of Demerol which may have stopped his heart. The doctor, who had only been treating Michael for 11 weeks, also made some serious mistakes with the resuscitation methods when he tried to revive him while still on the bed. It is common knowledge that CPR should be performed face-up on a hard surface. The public finds it difficult to believe that a trained doctor would make such a simple mistake. Michael's face had several plastic surgery scars and one side of his nose was completely gone, the other side was collapsed. His hair had fallen out and there was little left on his head but peach-fuzz and one completely bald spot from his prior fire accident on the Pepsi commercial set. www.thesun.co.uk/sol/homepage/ news/2505693/The-shock-findings-of-the Michael-Jackson-autopsy.html

Reportedly there were other prescription narcotics in Michael's home which were not prescribed to him and in addition, he paid over $100,000 for narcotics at a local pharmacy when he settled the account.www.foxnews.com/story/0,2933,243585,00.html

JUDGE GRANTS KATHERINE JACKSON TEMPORARY GUARDIANSHIP OF GRANDKIDS
Copyright 2009 Mark Ralston / Getty Images
Katherine Jackson Michael Jackson's mother has been approved by a Los Angeles judge temporary guardianship of his children.
Katherine Jackson was at her son's Holmby Hills chateau when he went into apparent cardiac arrest Thursday. She has been close with his three children, Michael Joseph Jackson Jr., known as Prince Michael, 12; Paris Michael Katherine Jackson, 11; and Prince Michael II, 7,also affectionately called 'Blanket' by his father. In the photos Prince Michael I is often seen with bleach blond hair. The children look peacefully into the camera lens as family members snap moments of them at play at home.
The papers by the Jackson family were filed at Los Angeles Supreme Court and also show that she is asking to take over the children's estate, which is listed as "unknown."
The papers state that the children will remain in their home with their grandmother.
Michael is survived by his three children: Prince Michael Jackson I, 12, Paris Michael Katherine Jackson, 11, and Prince "Blanket" Michael Jackson II, 7.
A further hearing is set for August 3rd. Prince Michael I and Paris Michael Katherine are known to be the children of Michael's second wife Debbie Rowe, who he was married to from 1996-1999. She is looking for custody, but has reportedly had little to no contact with the children since 2005 at least.
DEBBIE ROWE & FUNERAL PLANS
Joe Jackson, the father of pop icon Michael Jackson, spoke Monday at a press conference outside of his Encino, Calif. home -- and he discussed how Jackson's children are doing, what memorial plans the family has, and addressed custody issues involving Debbie Rowe. Watch the video to see footage of Monday's press conference.
When asked about funeral plans, the patriarch of the Jackson family said they were not going to rush and make plans for a memorial, saying:
"We don't have the time frame yet because we want to see how …the second autopsy turns out."
Jackson's father debunked rumors that the King of Pop would be buried at Neverland ranch, saying: "That's not true."
The Rev. Al Sharpton also spoke on behalf of the Jacksons at the press conference, saying:
"It is a determination of the family to be careful and deliberate on how they plan his celebration of life…," Rev. Sharpton said. "This is not something you do carelessly and spontaneously. We must also remember that they are still grieving."
Jackson addressed custody of Michael's three children, saying: "Of course, this is where they belong…we're the parents and….we're going to take care of them and give them the education they're supposed to have."
Jackson also had this to say about the mother of two of Jackon's children, Debbie Rowe: "Debbie Rowe has nothing to do with what we're doing."
Rev. Sharpton addressed comments made by Joe Jackson at the BET Awards Sunday about Jackson's spike in record sales, saying "some misinterpreted" what Jackson meant -- adding, that the "Jackson family will continue to do what Michael" would've wanted.
MICHAEL JACKSON'S DOCTOR'S ATTORNEY SPEAKS OUT
The attorney to Dr. Conrad Murray, Edward Chernoff, gives ET his client's side of the story, recalling the doctor's moments withMichael Jackson leading up to the singer's death.
The LAPD released this statement to ET regarding their interview with Dr. Murray:
"Dr. Conrad Murray, the physician who was with Michael Jackson at the time of his collapse, voluntarily contacted the Los Angeles Police Department. Detectives assigned to Robbery-Homicide Division met with Dr. Murray and conducted an extensive interview. Dr. Murray was cooperative and provided information which will aid the investigation."
Keep checking back here for the latest details on the investigation into the death of Michael Jackson...
DEBBIE ROWE-SHE GETS CUSTODY IF SHE WANTS
Debbie Rowe is poised to take full custody of the two children she bore for Michael Jackson.
It has been widely reported Debbie Rowe gave up her parental rights to Paris and Michael Jr. That is not true. During the custody fight that Rowe had with Jackson in 2005, she attempted to give up her parental rights, saying Michael was the greatest father ever. Retired Judge Stephen Lachs, who presided over the hearing, initially ruled her rights were terminated ... but then Lachs reversed his decision. Here's what happened. We spoke with Lance Spiegel, the lawyer who repped Jackson at the time. Spiegel says under the law, the Department of Children and Family Services must conduct a parental fitness investigation before parental rights are terminated and that didn't happen with Rowe. So Rowe has never given up any of her parental rights. As a result, under California law, Rowe is now presumed to be the person who will get custody. The only way Rowe can be denied custody is if a court determines it would be "detrimental to the children."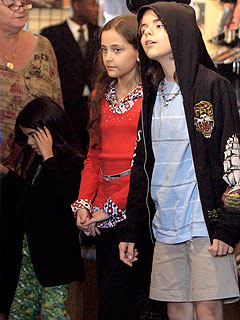 Michael Jackson's children, from left: "Blanket," Paris and Prince Michael.
THE EARLY YEARS: THE 'CUTE ONE'
"Michael was the little cute one," Jermaine told PEOPLE in 1984 about his younger brother, who joined his siblings – (clockwise from left) Tito, Jackie, Jermaine and Marlon – in the group the Jackson 5 at the tender age of 6. Though he started out as a backup musician playing congas and tambourine, it wasn't long before he was the frontman, leading the group to massive success with No. 1 hits including "I Want You Back", "ABC", "The Love You Save" and "I'll Be There."
CHILD'S PLAY
Despite his ever-present smile in photos (like this one circa 1970), life at home in the Jackson household was anything but happy. Jackson spoke out about the childhood abuse he endured at the hands of his father during a lengthy 1993 interview with Oprah Winfrey. And in the 2003 documentary Living with Michael Jackson, the singer told interviewer Martin Bashir that during Jackson 5 rehearsals, father Joe "sat in the chair and he had this belt in his hand. If you didn't do it the right way, he would tear you up, really get you."
BAND OF BROTHERS
After leaving Motown Records in 1975, Jackson and his brothers changed their name from the Jackson 5 to the Jacksons, releasing six albums between 1976 and 1984. At the time, Michael was the group's lead songwriter, and the period produced hits like "Can You Feel It." Simultaneously, the singer was striking out on his own, pursuing solo projects like 1978's film The Wiz and his celebrated solo album Off the Wall.
Ross first got a glimpse of Jackson's talent when she watched him and his older brothers perform at Motown head Berry Gordy's Detroit mansion. Jackson, then 10, even lived with his Supreme mentor, whom he once said he confided his "deepest, darkest secrets." More than a decade later, the pair starred in 1978's The Wiz, an all-black version of The Wizard of Oz.
LITTLE SIS
Though he and sister Janet (pictured in 1972) were close as siblings, Jackson had his typical big brother moments, like nicknaming her Dunk because of her size. "You look like a donkey, you're so big," he said. Years later, in 2001, the pair teamed up for the edgy song and video "Scream," which earned them a Grammy nomination. "Everyone sees he is different. There's no question about that," she said in 2007. "He's my brother. I love him regardless."
A BRICK IN THE 'WALL'
After his successful turn inThe Wiz, Jackson released his fifth solo album,Off the Wall, on Aug. 10, 1979. Coproduced by friend Quincy Jones, the Grammy-winning album spawned hit singles like "Don't Stop 'Til You Get Enough" and "Rock with You." "He had it all …talent, grace, professionalism and dedication," Jones said in a statement after learning about Jackson's death. "He was the consummate entertainer and his contributions and legacy will be felt upon the world forever."
KING OF POP: MOON LANDING
It was the moment that had kids everywhere trying to walk backwards: Jackson, in cropped pants and loafers, debuted the smooth-sliding "moonwalk," one of the most iconic dance moves ever choreographed, during the 1983 primetime specialMotown 25: Yesterday, Today, Forever. Singing with his brothers and solo, he performed his hit "Billie Jean" – and left the audience screaming for more. He later reprised the moment at the 1995 MTV Video Music Awards (left)
MAN ECCENTRIC STAR: MAN IN THE MIRROR
Over the years, Jackson's face changed dramatically as his skin appeared lighter, his nose narrower and his chin more defined, which prompted stories about addictions to plastic surgery and skin bleaching. Jackson admitted to twice altering his nose and adding a cleft to his chin, but told Winfrey, "I've never had my cheekbones done, never had my eyes done, never had my lips done." As for his changing skin color, Jackson blamed it on vitiligo, "a skin disorder that destroys the pigmentation of my skin," he said. "I have to even out my skin.
LISA MARIE PRESLEY
It was the kiss that was seen – and buzzed about – around the world: Michael Jackson and his bride, the King of Rock's daughter, declared their love for one another with an electrifying lip-lock at the 1994 MTV Video Music Awards. But after 20 months of marriage, Presley, 27, filed for divorce from the then-37-year-old pop star.
DEBBIE ROWE
Who in the world is Debbie Rowe? The world found out in November 1996 when Jackson and the 37-year-old assistant to the singer's dermatologist confirmed news that they were expecting a baby together. Ten days after learning he was going to be a dad, the King of Pop married his 6-months-pregnant companion in a civil ceremony Down Under.
AN ECCENTRIC STAR: FAMILY MAN
Jackson married dermatologist assistant Debbie Rowe, a longtime friend who also treated the singer for his vitiligo, and the two welcomed kids Michael Joseph Jackson Jr. (known as Prince) and Paris. When the marriage ended in 1999, Rowe gave her ex full custody. Three years later, Jackson had another child, Prince Michael Jackson II (a.k.a. Blanket), through artificial insemination, but he never revealed the surrogate mother's identity. Jackson has been protective of all his children, often masking their faces when they go out.
AN ECCENTRIC STAR:

THE MUGSHOT
After years of spending time with famous kids like Emmanuel Lewis and Macaulay Culkin, Jackson settled a suit charging him with abusing a child in a 1994 case. Then, amid recording a music video for his single "One More Chance" in Las Vegas, Jackson flew back to Santa Barbara, Calif., on Nov. 20, 2003, and surrendered to police on charges of lewd or lascivious acts with a child younger than 14. Taken to jail in handcuffs, the pop star took this now iconic mug shot – and weighed in at a frail 120 lbs.
AN ECCENTRIC STAR: DRESSED FOR COURT
Throughout his 2005 child molestation trial, Jackson had problems arriving on time to court. On March 10, Judge Rodney S. Melville threatened to issue an arrest warrant if the pop star didn't appear immediately. The pop star's defense attorney claimed that Jackson was hospitalized for back pain, but Jackson eventually arrived – minutes after the judge would have to make good on his threat – sporting slippers, pajama bottoms, a white undershirt and blue blazer.
Debbie Rowe And Michael Jackson Are Not The Biological Parents
Michael Jackson's ex-wife Debbie Rowe has revealed that the late King of Pop is not the actual father of Prince and Paris. Rowe made headlines 13 years ago when Jackson had announced that she would be the mother of his firstchild, Prince, now 12.
However, Rowe has now revealed that Jackson is not the real father, and that she has conceived both kids through artificial insemination, with sperms from an anonymous donor.
"It's just like I impregnate my mares for breeding. It was very technical," News.com.au quoted her as having told the News of the World."Just like I stick the sperm up my horse, this is what they did to me. I was his thoroughbred," she added.
However, it was due to complications during the birth of Paris that left Rowe unable to bear any more children.
She said that it was at that stage that Jackson ended theirrelationship, and paid her nine million dollars over nine years in exchange for custody of the children.
"I got paid for it, and I've moved on. I know I will never see my children again," she added.
This just keeps getting worse. It seems neither Michael Jackson nor Debbie Rowe are the biological parents of ANY of Jackson's children.
TMZ is reporting: We've learned Michael Jacksonwas not the biological father of any of his children, andDebbie Rowe is not the biological mother of the two kids she bore for Michael. All three children were conceived in vitro — outside the womb.
Multiple sources deeply connected to the births tell us Michael was not the sperm donor for any of his kids. Debbie's eggs were not used. She was merely the surrogate, and paid well for her services in the births ofMichael Jr. and Paris.
Michael has also not adopted any of his children.
Speculation has been growing regarding the biological father of Michael Jackson's children Prince and Paris.
Us Weekly is now reporting:The father of Michael Jackson's children Princeand Paris is Michael Jackson's L.A.-based dermatologist and Rowe's former boss Arnold Klein.
"He is the dad," says a Jackson insider. "He and Debbie signed an agreement saying they would never reveal the truth."
Rowe met Jackson in the 80's when she was a nurse assistant.
NANNY WITH CHILDREN
While Michael Jackson'smother Katherine has temporary custody of the children, who are living with her and their cousins as they adapt to life without their father, questions loom as to the future of Michael's three children. Three women look to collect the children to raise, including Grace Rawramba, the children's nanny for most of their lives, and possibly Debbie Rowe, allegedly the older two children's biological mother.
· Should they stay with the family Michael himself had so many rifts with?
· Should they go to the nanny they know and love, who has been with them the most as they have traveled the world with their father?
· Will the children speak at a court hearing about their future?
· What rights does the nanny have?
· Should the nanny stay in their lives for some sense of normalcy?
· Will Debbie Rowe fight for custody of her two older children? If so,
what happens to Blanket.
Michael Jackson author Diane Dimond has watched and written about the "Thriller" singer, completing her in-depth book "Be Careful Who You Love," about MJ before, during and after his trial for child molestation in 2005.
Her studied opinion is that the nanny will triumph both in court and in the hearts of the children. She told Matt Lauer on the Today show this morning that Grace, who was let go by MJ in December after calling an intervention for her boss and friend, may have rights the public doesn't know about.
The latest scandal to surface is that neither Michael nor Debbie are the parents. According toTMZ.com, the couple used donor sperm and eggs for in vitro fertilization. Rowe was paid handsomely for her services, carrying the children to Jackson.
The Jackson family has finally received Michael Jackson's will, which reportedly states that he left everything to Katherine and his children.
It has been roundly speculated that the kids may go to Katherine, who
currently has temporary custody,Debbie Rowe if she fights for it or possibly the children's long time nanny,Grace Rwaramba.
Many are betting on the nannyhaving some role at least. She and Katherine apparently had a good relationship with her, as did the childen,Prince Michael, 12; Paris Michael Katherine Jackson, 11; and Prince Michael II, 7.
Grace, who started out as a personal secretary, was so close to Michael that rumors spread in 1996 that he had plans to marry her. Fox News reported at the time that she couldn't marry Michael as she was already wed. She tied the knot in Las Vegas with Stacey M. Adair Feb. 26, 1995. A Stacey Adair is listed on imdb.com as a production manager for TV shows in the 1990s, his last official job being "Joking Apart" in 1995. The two apparently later divorced.
She must enjoy Vegas as much as Michael did as Rwaramba marriedJoseph Kisembo Dec. 4, 2008. That was the same month she allegedly called for an intervention for Michael with his mother Katherine and sister Janet. She was subsequently let go.
A court date regarding the children has been set for August 3 in Los Angeles. Grace has hit some tough media bump as she spoke with The Times in London about her relationship,
THE CHANGES MIKE HAD
Hard to believe - this was Michael Jackson. He was born August 28, 1958 - one of 9 kids. His father reportedly nicknamed him "Big Nose".
Mike was born a cute African-American guy. "Normal", if you will, andverytalented. Despite the current, sad stories about his lonely, sad childhood, Mike grew up surrounded by famous people and an adoring public. At age 5, Mike and his brothers were the amazing 'Jackson 5'. They played locally, then in New York and Philly. They were "discovered" by Gladys Knight and pianist Billy Taylor at the famous Apollo Theater in Harlem. By age 11, Mike was a Superstar. At age 13 he went solo and had his first #1 hit at 14 with "Ben" (a touching love song to a rat). Who knew he'd get addicted to plastic surgery, face accusations of child molestation and end up America's Most Famous Sideshow?
1979 age 21
1984 age 26
1985 age 27
Bad plastic surgery: Michael Jackson

Believe it or not, this guy here used to be black! For reals. Once known as a stellar musician and dancer, now he's most notorious for scaring adults and children alike with both his artificially destroyed appearance and his beyond bizarre behavior. (Note the oogy veiny bits on the end of his nose.)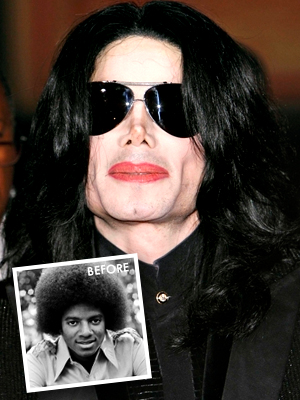 1987 age 29
1991 age 32
1999 age 41
2000 age 41
2001 age 42
Oct 2002
age 44
Nov 13, 2002
Sept. 2004
Jacko was hot in bed: Lisa Marie
While the case against him for the alleged sexual abuse of 12-year-old Jordie Chandler brought out his bizarre lifestyle and love for proximity to children out into the open, no one really believed him when he insisted he had romanced girls like Tatum O'Neal or Brooke Shields.
In fact, according to extracts from a book published in a UK tabloid, Tatum told a
friend
: 'How can any girl have a
relationship
with him? When we're together, he's so shy he hardly says two words. 'I know he's a virgin. I wonder if he's afraid to have sex. He doesn't seem very interested.'
And when Michael Jackson was growing up, his mother too worried that he rarely went out with girls. As people settled into seeing the star as an eccentric, but essentially asexual, came his marriage to Elvis Presley's daughter, Lisa Marie Presley, in 1994.
Writes Randy Taraborrelli in Michael Jackson: The Magic And The Madness, Jackson's friend and confidant of 40 years, "From my conversations with both Michael and Lisa, I am convinced this
marriage
was not a sham. And, according to Lisa herself, Jackson was a wonderful lover. He was, she said, 'very hot' in bed."
Michael and Lisa hit it off on their very first
date
, at a dinner party of a mutual friend. They believed they were soulmates. Michael flirted openly, and as they talked, Lisa felt she was seeing the real Michael, the man behind the mask.
Throughout the time of his obsession with Jordie Chandler, Jackson dated Lisa intermittently and after the case began, he took her support in "long, anguished phone calls", writes Taraborrelli.
Lisa is quoted as saying, "Yes, I started falling for him. I wanted to help him, and I felt that I could." She stood by him as he spiralled into drug addiction. During one phone call, he asked how she would respond if he proposed marriage. Her reply was instant: "I would do it."
"A silence followed until Michael said: 'Hold on, I have to use the bathroom.' When he came back on the line, he acted as if everything was settled. Lisa was his fiance. 'My love for you is real,' he told her. 'Please believe me'," Taraborrelli writes.
The two walked holding hands in Neverland and kissed at the top of the Ferris wheel. She slept with him in his bedroom and for Michael, it's said to be the first time he experienced such chemistry with a woman, or with anyone.
"He seemed unable to contain his laughter. 'I've never known a person like her,' he said. He and Lisa appear to have had an intense and active sex life. She told a friend that he was 'hot stuff in bed' and 'amazing' - and she should know, the friend added, because 'she's been around'," shares Taraborrelli.
The make-up never came off
However, certain things bordered on the bizarre. 'The first time, she went to turn on the lights afterwards, and he leapt out of bed and ran into the bathroom so she wouldn't see his body. He emerged 20 minutes later, in full make-up and wearing a silk robe. Then they went at it again.
Throughout the time they were married, she never saw him without make-up on. When she woke in the morning, she'd find his pillow smeared with it. Her husband spent hours in the bathroom, applying and removing cosmetics.
'Lisa would try to surprise him by waking early and tapping him on the shoulder,' a friend recalled. 'He would shriek "No, don't look!" and scamper to the bathroom.'
The book says, "He was 'like a young boy, angry at the world', one of her friends noted, and his self-pity became a strain on the relationship. 'She had no patience at all with the lost childhood routine. "Who hasn't had a miserable childhood?" she would say'."
They were also reportedly into "role-playing" games and he liked Lisa to wear jewellery in bed.
'If you can't give me a baby, Debbie will'
And while Lisa's mother Priscilla Presley fumed that the marriage was a cover-up for the child abuse charges, Jackson had another agenda altogether. Previously adamant that he had no interest in having biological children, he was now desperate.
He told the author, "The Chandler business had hurt him deeply, leaving the gnawing, empty space in his heart more terrifying than ever. He was determined to 'start living', he insisted, falling in love with a woman, marrying and having children of his own. He told me at the time: 'I love Lisa. Why won't people believe that? Why won't people let me be happy?' When Lisa didn't become immediately pregnant, he expressed his disappointment. 'I thought we'd be expecting within a couple of weeks of making love,' he said. 'Lisa says it takes time, but I don't have time. I want it to happen now. I want children so badly'."
She was also alarmed at his behaviour and though she didn't believe he was a paedophile, she was concerned when he still chose to spend time with young boys. At this point, things soured between the two. One of Lisa's friends said: "The great sex continued but when they weren't in bed making love, they were fighting. Lisa started to wonder if she'd made a mistake in choosing him as a life partner."
By September 1995, Michael was pushing Lisa to get pregnant and she could sense the marriage was doomed. She later said, "When I imagined having a child with him, all I could ever see was the custody battle nightmare."
The marriage ended after Michael announced that he had a plan to get himself a baby. "One day over breakfast, he told Lisa: 'My friend Debbie said she will have my baby. If you won't do it, then she will.' Lisa was stunned. Life with Jackson had been weird from the start, but this was too much. She called his bluff. 'That's fine with me,' she said in a calm, controlled voice. 'Tell her to go ahead and do it'."
Debbie went on to bear him two children, but his marriage was well and truly over. It left Michael deeply upset — never before had he felt uninhibited and physically intimate with anyone and Lisa Marie Presley had been the one to truly touch his heart.
Michael's philandering dad
Michael was, however, exposed to sex at an early age. He began touring with his elder brothers as the Jackson 5, even as the brothers were booked into dives and strip joints. "Nine-year-old Michael watched from the wings as voluptuous women - and the occasional transvestite — stripped naked on stage. Marlon Jackson recalled his father going off to bed with shapely beauties on both arms.
...
Then he would go home to his mother Katherine, a devout Jehovah's Witness, who imprinted on her sons the belief that lust in thought or deed was sinful."
A disturbed Michael became even more anxious as he found his brothers had inherited their father's strong and selfish sex drive. "Aged 14, he intercepted a girl named Rhonda Phillips on her way to an after-show assignation with his brother, Jackie. 'Don't go,' Michael pleaded with her. Rhonda asked why not. 'My brothers don't treat girls too good,' he responded."
The author recounts that Rhonda ignored his advice, and came out of Jackie's room less than half an hour later, feeling utterly used. As she was walking down to the street, a white Rolls-Royce pulled up. "Michael got out and asked if she'd had sex with his brother. 'Yeah,' she answered and began to cry. 'Did he make you do it?' he asked. 'No,' she said. 'I wanted to.' 'You wanted to?' said an astonished Michael. 'But why would you want to?' Michael never followed his brothers' interest in groupies."